Accession#:
2019.12
Label/Maker:
Unknown
Date:
1945-1952
Object Details:
Small Souvenir Hand Fan, 1945
Made in Japan
Silk and Rayon Fabric, Bamboo, Paint, Paper, Metal, and Mother of Pearl (faux)
This is a small souvenir folding hand fan with sheer, white silk. The leaf is hand-painted with pink, white, black and green cherry blossoms on brown and black branches. The top edge of the leaf is bordered with gold metallic paper that wraps to back of leaf. The Leaf is adhered to 23 bamboo sticks, the bottom of which are painted with gold designs, and 2 bamboo guards, the upper portion of the right guard has faux mother-of-pearl veneer. The Metal rivet and loop has red rayon cord ending in 2 orange tassels.
____________________
This fan was donated by Caroline Moller '57. This fan had belonged to the donor's Aunt, Marion Fairchild Mayberry who collected fans while traveling with her husband.
2019.12.7.1

Reference: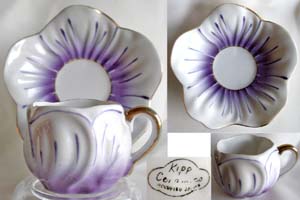 Occupied Japan Cup and Saucer
Cultural Connections:
Between 1945-1952, the United States occupied Japan resulting in a new constitution that enacted land reform, women's voting rights, and a ceremonial emperor. This period led to increased exports from Japan to the United States based on a manufacturing campaign to ease economic damage caused by WWII. Specific products such as the hand fan from the Lasell Fashion Collection were specially marked with a stamp reading "Made in Occupied Japan". The most commonly exported items included small ceramics, jewelry, cameras, clocks, toys, and kitchenware (Herald Dispatch). During the 1980s, it was a popular trend to collect "Occupied in Japan" products and other knickknacks.
Sources:
Herald-DispatchHerald-Dispatch.com, 2011/The. "Jean McClelland: Items 'Made in Occupied Japan' Highly Sought." Dispatch, 22 May 2011, www.herald-dispatch.com/features_entertainment/jean-mcclelland-items-made-in-occupied-japan-highly-sought/article_1ca274c7-180a-5f00-8863-eaa385118f0b.html.

Click to Enlarge