Object ID:
2013.4.39
Label/Maker:
Ackermann, Rudolph
Date:
February 1, 1817
Object Details:
This hand-painted Ackermann illustration depicts a woman in a white low-cut empire waist evening dress with cloud-like Marie sleeves which are decorated with alternating bows. A large white shawl delicately flows behind the garment with pink and blue floral embroidered designs. The white fringe trim creates an ethereal aura while adding to the movement of this costume. The neck is adorned with a layer of golden necklaces of varying lengths with cross pendants completing an angelic look. The lady's curled hairstyle is embellished with a floral laurel band in keeping with a Neoclassical focus. Her expression, pose, and facial features combine fetchingly in a resemblance to both a Greek goddess and a Christian Madonna. Her straight nose, idealistically Greek visage, and curled hair are reminiscent of statues such as the Venus de Milo; whereas that lady's soft, loving, and slightly vacant expression can be likened to portraits of the Madonna and Child. Reflected in this Ackermann illustration is a complexity on a religious and philosophical front during the Neoclassical period. On one side, there is a blooming interest in Greco-Roman art, architecture, culture, and thought, yet there is also still a focus on Christianity as motifs such as putti are changed into the Christian cherubim.
Reference:
Compare to this record:
Boys Ceremonial Clothing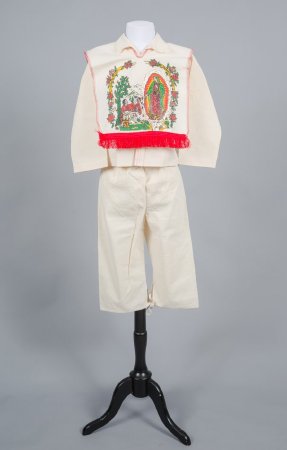 Cultural Connections:

The creators of the 2018 Metropolitan Museum Gala "Heavenly Bodies: Fashion and the Catholic Imagination" hoped that the exhibit would be seen as a "shared hypothesis about what we call the Catholic imagination and the way it has engaged artists and designers and shaped their approach to creativity." According to NY Times, the theme created a dialogue between fashion and the masterworks of religious art.19 The Ackermann illustration and the boy's ceremonial festival clothing both possess a keen sartorial sense which is heavily influenced by Christianity. As with the Metropolitian Gala, religion helped to shape the creativity of the designers of both of these works, yet of course in their own way. The Ackermann illustration is slightly less direct in its approach to an interpretation of Christianity, merely suggesting religious overtones using subtle design elements, whereas the boy's ceremonial tilmàtli literally depicts a scene from Mexican Christian mythology. In either case, the inspiration from Christianity is undeniable and combines beautifully to create something heavenly and intricate.
Reference:
19 Vanessa Friedman, "The Costume Institute Takes on Catholicism," The New York Times, November 8, 2017. https://www.nytimes.com/2017/11/08/style/met-museum-costume-institute-catholicism.html