Object ID:
2013.4.24
Label/Maker:
Ackermann, Rudolph
Date:
December 1, 1815
Object Details:
The Ackermann illustration depicts a lady in a long and ornate pink evening dress decorated with ruffles, ribbon, and delicate flowers. The dress has an empire waist bodice and an off-the- shoulder neckline with puffed sleeves. In one hand, a small bouquet compliments the blossoms on the dress and in the hair, while the other hand holds a closed fan. The look is accessorized with white stockings, slippers, ruffled gloves, and pearls that circle the neck and hair. Created in 1815, this style reflects the soft, stately, and ethereal femininity of the time, enhanced by the light floral detailing. 10 The Neoclassical design of the dress evokes the Greco-Roman idealistic beauty of the worship of goddesses.
Reference:
Compare to this record:
Flowered Hat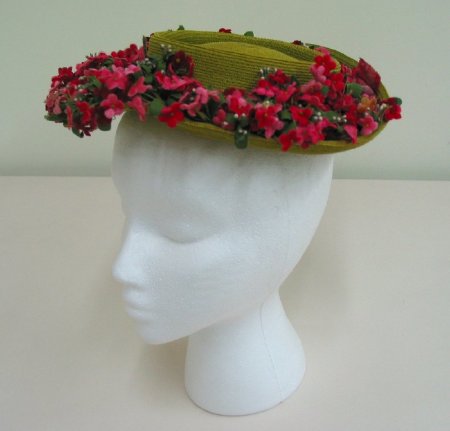 Cultural Connections:

Although made in different time periods, the palette that is used in the Ackermann print and the 1940s hat mirror one another beautifully.Varing shades of pink with reds and touches of a mossy green mix attractively with the floral detailing, creating distinctly feminine looks. The dreamy impression that the Ackermann print suggests is reminiscent of the aura found in the Romantic era that would impact the early years of the 19th century. The green straw hat defies the masculine aesthetic of wartime, as this feminine rebellion of style foreshadows the coming popularity of the New Look that would be launched in 1947. In the post-war years, fashion trends embraced all things classically ladylike, yet with a modern take.


Reference:
10 Harper Franklin, "1810-1819," Fashion History Timeline, June 1, 2020. https://fashionhistory.fitnyc.edu/1810-1819/.
11 "1940s Hats History," Vintage Dancer, March 2, 2015. https://vintagedancer.com/1940s/1940s-hats/.